***Does not fit engines equipped with a MAF housing & sensor, verify before ordering***
UNIQUELY ENGINEERED
IE engineers set out to produce the highest performing cold air intake that looks great and fits like a factory installed part in your A4. The latest in computer design and 3D scanning technology were employed during the development process for a perfect fit and maximum performance. The final product resulted in the greatest performing and best-looking intake available.
FLOW OPTIMIZED
VELOCITY STACK
MOTORSPORT DESIGN

The ram air design, velocity stack, and massive 55″ filter inlet help deliver the most HP possible from a cold intake system.
Expect peak gains of 10-20+HP/TQ on tuned engines.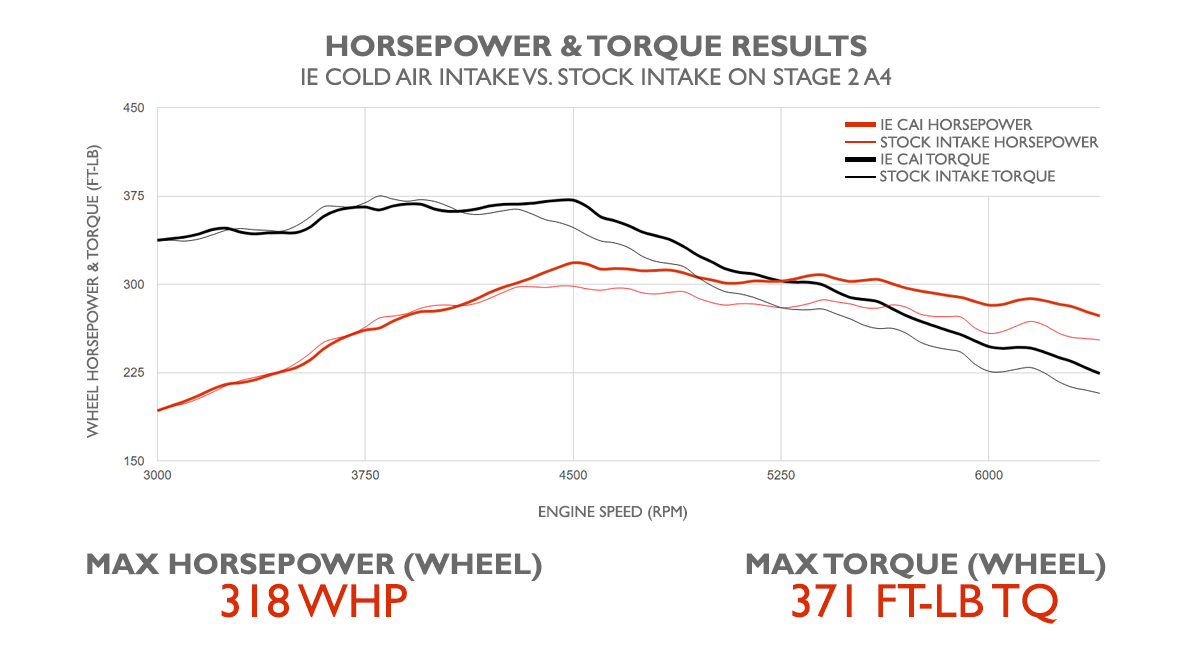 This Intake delivers an impressive flow increase to feed your turbo. More cold air flow means more power; especially during the hot summer months. Ditch your stock restrictive airbox for the IE intake System. -Oh, and it sounds GREAT too!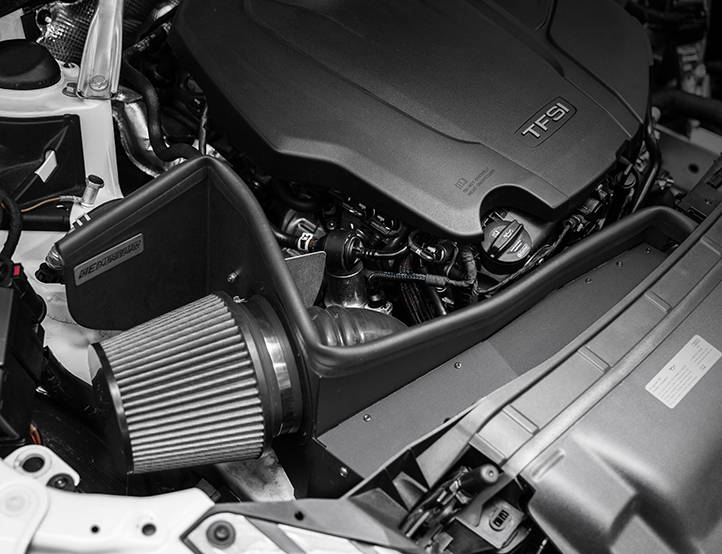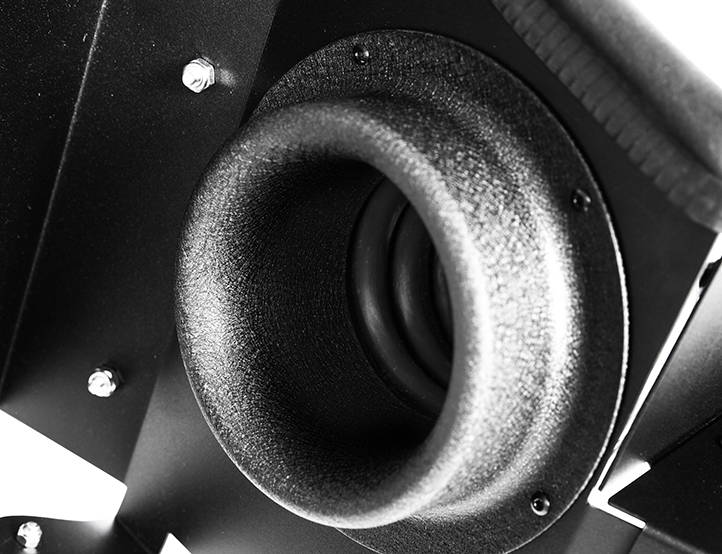 Delivering cold air to your engine is a must for making power. The velocity stack efficiently channels air as quickly as possible into the intake system. The velocity also functions as a solid mount for the air filter which means no intake pipes rattling on heat shields.
IE uses a three piece heat shield which effectively channels cold air from the front of the car to the massive performance filter. Furthermore, it eliminates the induction of hot air found in other locations of the engine bay. A second heat shield is mounted above the turbocharger to further protect against power robbing heat off the exhaust and turbo.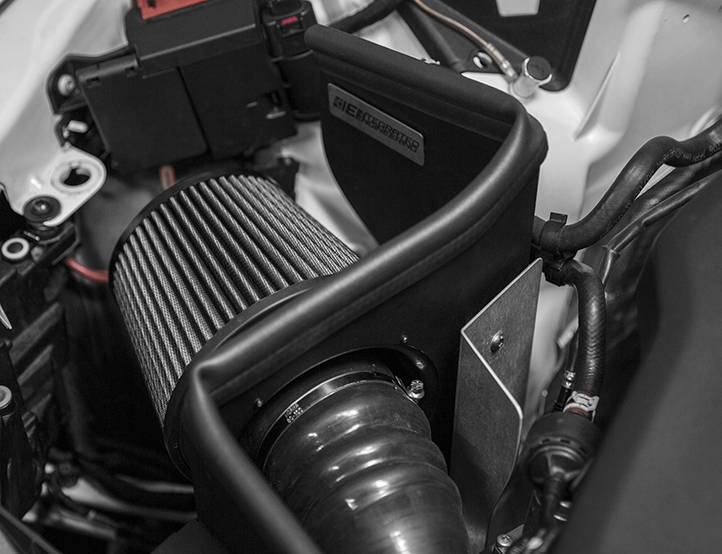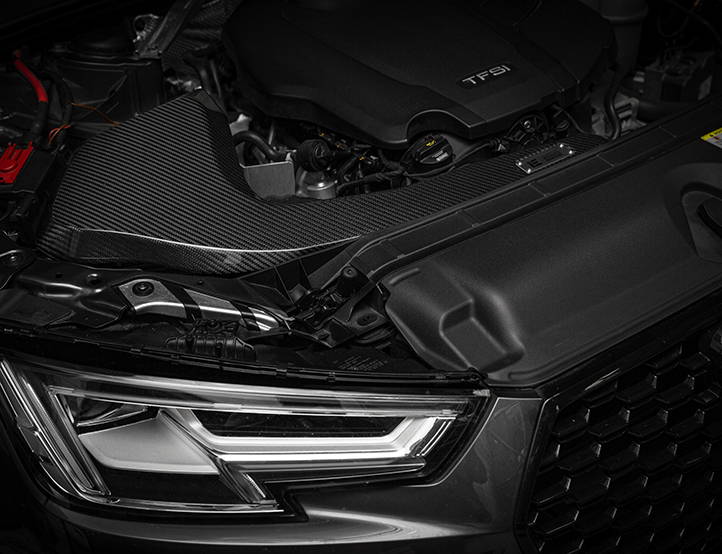 This Intake fits Audi B9 A4 and A5 2.0T engines without any modification or installation hassles. The install process is simple and can be done quickly with basic tools. The fact that IE intake utilizes the factory airbox mounts ensures a perfect and hassle free fit. Additionally, the stock rubber mounts allow for engine movement which keeps intake components from getting damaged.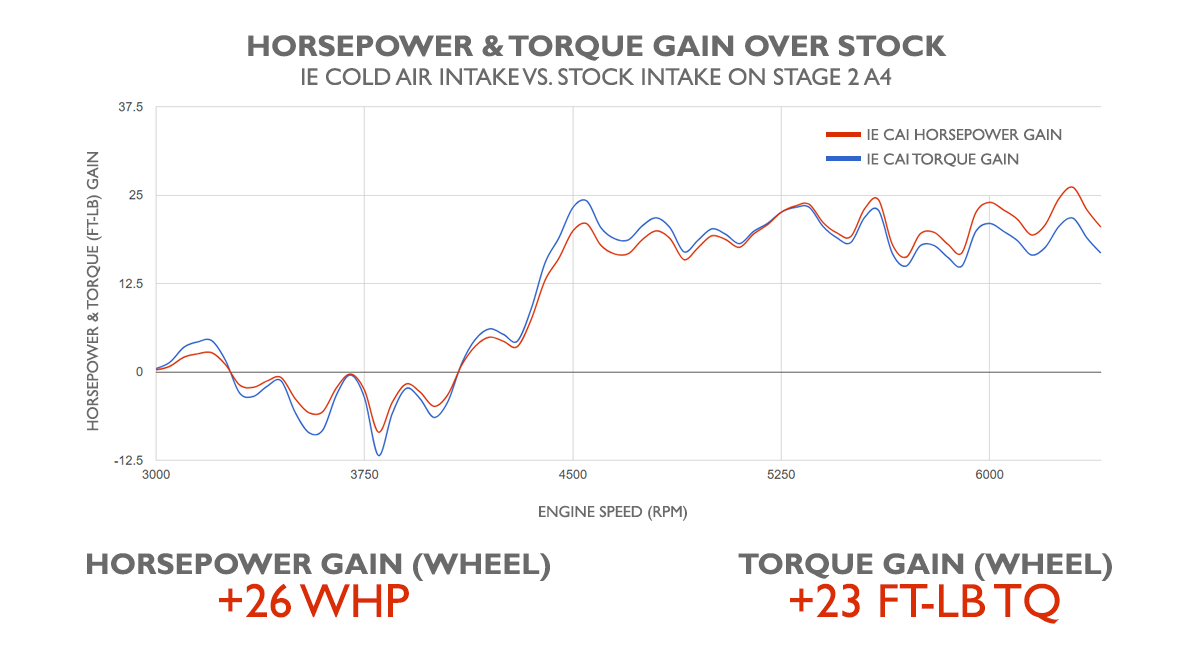 In-depth power testing was performed on our in-house Dynapack hub dyno. Before and after results are direct back-to-back comparisons on a full bolt-on stage 2 B9 A4 2.0T engine. The only change made to the vehicle between testing is the swap from a stock intake with a new clean air filter to the IE Cold Air Intake Kit. Dyno power results are approximate and may vary from car to car.